Pal Products, Inc. provides the latest consumer electronics to the marketplace with innovation in the application of technology and design. We develop, manufacture, and market a wide variety of
thermometers,
pool and spa accessories,
cooking accessories,
and other gadgets to help simplify your life.
Current innovations include the Talking Switchplate Thermometer, for monitoring the temperature in any room, and the Eternity Flashlight, which requires no batteries and has no light bulb to burn out! Also available for sale now is the Talking Indoor/Outdoor thermometer with hourly announcement. We encourage you to check out our specials currently being offered below, and of course our line of Simple Wireless Thermometers for both indoor/outdoor operation and cooking/barbequeing.
---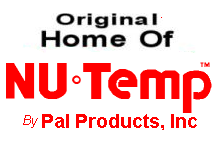 Wireless BBQ Thermometer

Wireless Air/Water Thermometer

Be in control when cooking. Includes the base station, remote transmitter, and stainless steel food probe for one low price.

Ideal for use in pools, spas, patios, garages, basements, and freezers. Monitor a remote temperature up to 100' away.

NU-701 Information


&nbsp&nbsp&nbsp&nbsp&nbsp&nbsp&nbsp&nbsp&nbsp&nbsp

NU-601 Information


Talking Indoor/Outdoor Pool/Spa Thermometer

Germ Eliminator

The Talking Indoor/Outdoor Pool/Spa Thermometer comes complete with Hourly Temperature announcement, Time, Alarm, and a Stainless Steel 10' probe for easy installation.
Buy One, Get One FREE!

Your compact and portable sterilization solution! Our battery-powered Germ Eliminator uses UV light for non-contact sterilization. Kills Germs, Bacteria, and Viruses in seconds!


NU-853 Information

NU-5000 Germ Eliminator Information
Purchase this Item
Simple Propane BBQ Light
Patent Pending
See More Information